Technical Communication Services
Since 1993, JPG has provided a complete line of staffing and consulting solutions for delivery of technical writing & other technical communication projects.


Every Resource You Need
JPG provides resources for technical writing/editing, technical illustrating, graphic design, instructional design, e-learning development, help-file development, web content development, UX, UI, and more.


Offering Integrated Solutions
By offering both consulting & staffing services, JPG has the flexibility and bandwidth to support projects in many ways—no matter how complex or large. Industry experience includes: high-technology, hardware and software, commercial equipment, packaging and automation, medical device and healthcare, engineering, heavy equipment, and manufacturing.


A turn-key content development solution


A faster way to get the resources you need
for your technical communication projects

Candidates: To apply for employment for technical communication opportunities, select SUBMIT RESUME.

Why Choose JPG?
More than 25 years of focused experience.

Technical communication is all we do.

Responsible, flexible, and creative in our approach.

Always on time, within budget, and with quality in mind.
Client Testimonials
"Integrity is the first word that comes to mind when I think of JPG & Associates. I would rarely (if ever) use this term when referring to other consulting companies I've encountered. JPG stands out with their goal of offering the best possible rates to both customers and consultants. They take a modest share while minimizing the customer's billable rate and maximizing the rate to their consultants. By combining respectful treatment of consultants, competitive rates, and a reputation for honesty, JPG is able to maintain long-term relationships with their best people. I give JPG Associates my highest rating."
"I chose JPG over other contract writing services because of the quality of people at JPG & Associates, Inc. and because of JPG's integrity. While many national contract services have simply thrown resumes at me, JPG carefully considers candidates to make sure they match the jobs. If I had to secure contract services again, my first step would be to contact JPG."
"JPG is a very good provider of technical writing talent. They provides the information you need to choose the best resource for your project based on talent and cost. Their billing is fair and timely and JPG will work with you to maintain a good, long-term working relationship."
"JPG is my first choice for contract technical writers and graphic designers. They are also very well connected to companies in the metro and I know many writers who want to work with them. JPG has been a great resource for me over the years."
"I have worked with Jerry Grohovsky and JPG over the past 10 years both as a contractor and as a customer hiring contract help. JPG has always been honest and accommodating in my business dealings with them. JPG is a trusted source of technical communications talent and has contributed to my success as a writer and a manager."

Consultant and Client Resources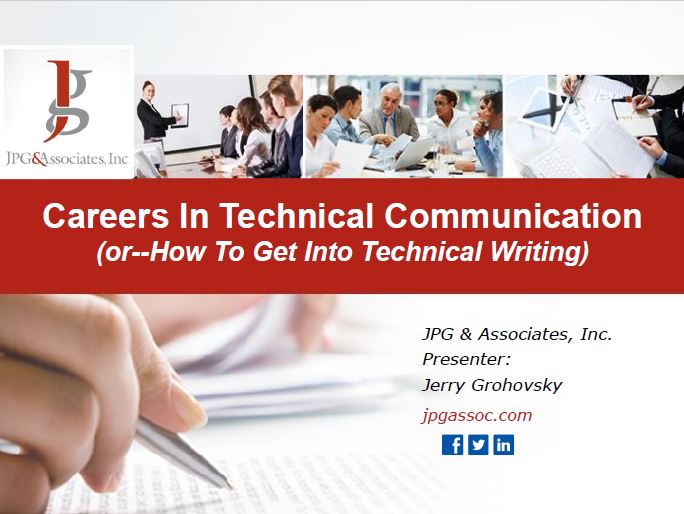 For additional PowerPoint presentations and articles, please visit our Consultant Resources page.
Client Projects Completed
JPG & Associates, Inc. provides

Industry Experience,
Flexibility and Competitive Rates.
Customer satisfaction is our #1 priority.
We want to thank our customers for their business and support!